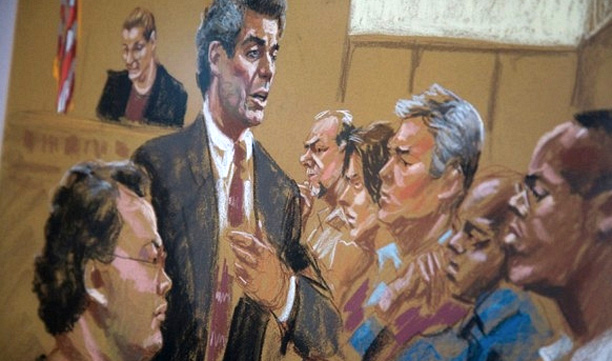 People v. Andrew Goldstein (1999)
From murder and drug trafficking to tax evasion and fraud, criminal defense attorney Harvey Fishbein has earned an outstanding reputation for his work in white-collar criminal defense, as well as defending clients charged violent crimes and major felonies. From large Fortune 500 companies accused of unprofessional activities to ordinary individuals faced with extraordinary circumstances, he has represented thousands of clients confronted with serious criminal charges.
Throughout his more than 40 years of practice, Harvey has gained an intimate knowledge of the court system and developed strong ties and professional relationships with prosecutors and judges in both state and federal courts. A talented and resourceful litigator, he has achieved great success in resolving many of these matters discreetly and professionally – sometimes without any litigation at all.
In the Media
Harvey has represented clients in a number of high-profile cases, including:
People vs. Pedro Hernandez
Since May 2012, Harvey has represented Pedro Hernandez, who is charged with the murder of Etan Patz, a 6-year-old who in 1979 did not return home after leaving his SoHo home to walk to a school bus stop two blocks away.   This case, which has gained international attention, involves elements of mental illness, false confessions, police misconduct, and complex legal issues.
People vs. Andrew Goldstein
In a highly publicized case, in The People vs. Andrew Goldstein (1999), Harvey represented an individual who, while suffering from schizophrenia, pushed Kendra Webdale in front of a New York City subway train, resulting in her death. This case led to Kendra's Law, a landmark legislation that provides assistance to people with mental illness who are unlikely to survive safely in the community without supervision.
People v. Reuben Harris
Three years before the Goldstein case, Harvey obtained from a jury a "Not Responsible" finding as a result of a mental disease in a highly publicized case strikingly similar to Goldstein. Reuben Harris suffered from schizophrenia and pushed a 63-year-old in front of a subway train in Manhattan, resulting in her death. As a result of the favorable jury verdict, the defendant was hospitalized and received needed psychiatric treatment.
Supreme Court, Civil Term, New York County
In a highly publicized, controversial commercial case in New York County, a Supreme Court Judge appointed Harvey as the receiver for 47 residential properties in Manhattan. As Receiver, Harvey and his staff were responsible for protecting the financial well-being of the properties while at the same time tending to the needs of the buildings' 1,200 tenants. From his September 2009 appointment until the completion of the matter in December 2012, Harvey successfully cured many of the intolerable building conditions that existed prior to his appointment.
Other Noteworthy Criminal Cases
Other noteworthy criminal cases Harvey has represented include:
A globally recognized musician accused of possessing child pornography on his computer and distributing images on the Internet
A major hospital in New York City under a highly publicized criminal investigation for the misuse of public funds
An adolescent treatment facility under investigation for alleged systemic sexual abuse of residents
A teacher accused of sexually abusing a student
A number of death penalty-eligible defendants in State and Federal Courts
Harvey has also successfully defended clients in cases involving white-collar criminal crimes, including:
An internationally known Caribbean musician charged with immigration violations
A nationally known real estate company being investigated for tax violations
A publisher of a nationally known magazine being investigated by the United States Attorney's Office for fraudulent advertising practices
Various medical professionals – doctors, dentists, psychologists – investigated for Medicare fraud
Attorneys and judges accused of crimes and ethical violations
Accountants and individuals being investigated for state and federal tax violations